Interesting what you can find out when you do a bit of digging on the internet!
Here's a bit about Judea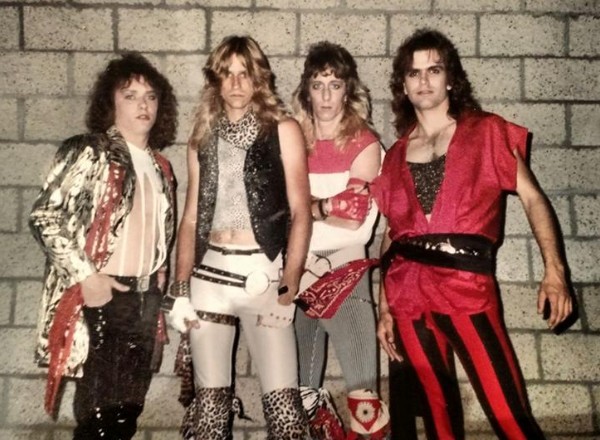 Bio
Judea was a Christian metal band from the late 80's. They had two songs featured on Regency Records' compilation album, "California Metal II". Members were: Randall Drew on vocals, Norman Stevens on guitar and background vocals, Danny Henry on bass and background vocals, and Steve Lamb on drums. Steve Lamb is the cousin of Robert Sweet (Stryper) and would later go on to drum for Titanic.
Judea
Originated:
Los Angeles, California
Country:
United States of America
Genre:
Heavy Metal/Classic Metal
Then... I found out...
About Defects
Claremore, OK
The Defects are a Recovery based Hard Rock band. The three
members are in recovery and grateful to our higher power and the
12-step programs that brought each member back from the brink of
destruction.
Coming from diverse backgrounds, all playing in various
bands over the years, the members forged together to express the
pain and loss each experienced through the disease of addiction.
Mike and Randy's rhythm section combined with Shawn's dark, twisted
riffs, provide a canvas for Randy's eerie imagery of the still suffering
addict, trying to find recovery. The "sound" of the defects was born.
Randall Drew - Lead Vocals and Drums
One of the founding members of the Defects, Randall was looking for an outlet
for his current vision of Recovery influenced music. Using his experience from
previous projects: JUDEA, PAXTONS EMPIRE and LIGHTINING ELLIS and working with John and Dino Elefante from KANSAS and MASTADON, Randall honed his vocal style,under their driving force while working as a studio engineer and vocal musician in
Los Angelos. After a long time overseas in various bands, he returned home to
Oklahoma to face his greatest challange yet - Recovery.
The Defects' songs are areflection of this journey called recovery, as interpreted by his fellow travelers, Shawn and Mike.
Shawn Jones ........ Lead Guitar
A musician born and raised in Fort Smith, Ark., in a musical family, Shawn moved
to the Tulsa area in 1999 searching for a better way of life and ultimately, a
better music scene, and has since found both. With a little help from his Higher
Power, Jesus Christ, and handful of awesome friends and family, Shawn has been
able to bring you his "defective" guitar style.
Mike Starkey .........Bass Guitar
Living most of his life in the Claremore area, Mike began playing bass in the early
90s with local bands, Painted Ho, Revolver and Blunt Sunday. After following the
wrong path in life for many years, he found the road of recovery and a new way
to live. Mike was able to unearth his musical potential by crossing paths with
Shawn and Randall, further refining his bass skills.